8 April 2013
Kenya's Maasai keep lions at bay with solar power and ingenuity
28 March 2013
UGA discovery may allow scientists to make fuel from CO2 in the atmosphere
25 March 2013
Climate change will bring greater extremes in weather, warns Government's chief scientific adviser
Dead forests release less carbon into atmosphere than expected
Vast swaths of forest are succumbing to pine beetle outbreaks. Credit: David Moore/UA School of Natural Resources and the Environment (Phys.org) —Billions of trees killed in the wake of mountain pine beetle infestations, ranging from Mexico to Alaska, have not resulted in a large spike in carbon dioxide released into the atmosphere, contrary to predictions, a UA-led study has found. Ads by Google Top Human Resource Job - Find the latest Human Resource Job in Europe. Join Experteer® today! - Experteer.com/Human+Resource+Job Massive tree die-offs release less carbon into the atmosphere than previously thought, new research led by the University of Arizona suggests. Across the world, trees are dying in increasing numbers, most likely in the wake of a climate changing toward drier and warmer conditions, scientists suspect. In western North America, outbreaks of mountain pine beetles (Dendroctonus ponderosae) have killed billions of trees from Mexico to Alaska over the last decade. Given that large forested areas play crucial roles in taking carbon dioxide out of the atmosphere through photosynthesis and turning it into biomass, an important question is what happens to that stored carbon when large numbers of trees die.
Read more at:
http://phys.org/news/2013-03-dead-forests-carbon-atmosphere.html#jCp
8 March 2013
The chances of the world holding temperature rises to 2C – the level of global warming considered "safe" by scientists – appear to be fading fast with US scientists reporting the second-greatest annual rise in CO2 emissions in 2012.
Carbon dioxide levels measured at at Mauna Loa observatory in Hawaii jumped by 2.67 parts per million (ppm) in 2012 to 395ppm, said Pieter Tans, who leads the greenhouse gas measurement team for the US National Oceanic and Atmospheric Administration (NOAA). The record was an increase of 2.93ppm in 1998.
The jump comes as a study published in Science on Thursday looking at global surface temperatures for the past 1,500 years warned that "recent warming is unprecedented", prompting UN climate chief, Christiana Figueres, to say that "staggering global temps show urgent need to act. Rapid climate change must be countered with accelerated action."
Tans told the Associated Press the major factor was an increase in fossil fuel use. "It's just a testament to human influence being dominant", he said. "The prospects of keeping climate change below that [two-degree goal] are fading away."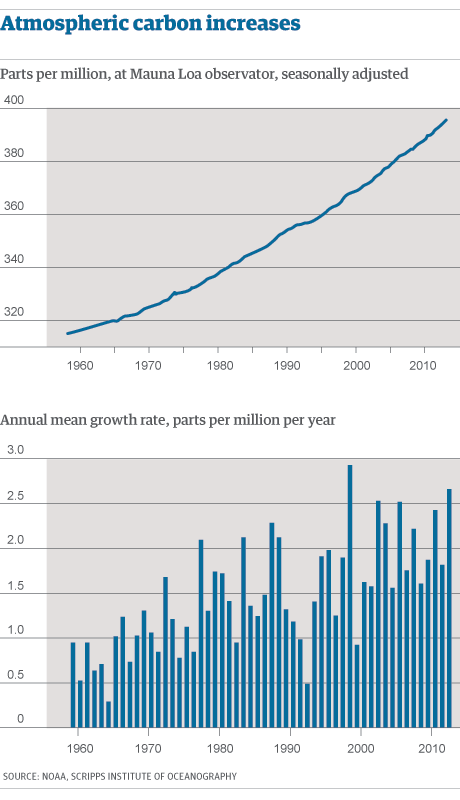 Preliminary data for February 2013 show CO2 levels last month standing at their highest ever recorded at Manua Loa, a remote volcano in the Pacific. Last month they reached a record 396.80ppm with a jump of 3.26ppm parts per million between February 2012 and 2013.
http://www.guardian.co.uk/environment/2013/mar/08/hawaii-climate-change-second-greatest-annual-rise-emissions
26 February 2013
21 February 2013
In Rich and Poor Nations, Giving Makes People Feel Better Than Getting, Research Finds
Feeling good about spending money on someone else rather than for personal benefit may be a universal response among people in both impoverished countries and rich nations, according to new research published by the American Psychological Association.
"Our findings suggest that the psychological reward experienced from helping others may be deeply ingrained in human nature, emerging in diverse cultural and economic contexts," said lead author Lara Aknin, PhD, of Simon Fraser University in Canada.
http://www.sciencedaily.com/releases/2013/02/130221104357.htm
19 February 2013
E.ON lobbied for stiff sentences against Kingsnorth activists, papers show
Power giant warned then energy secretary Ed Miliband that failure to impose tough sentences would 'impact'
investment
James Ball
http://www.guardian.co.uk/environment/2013/feb/19/eon-lobbied-miliband-sentences-kingsnorth
5 February 2013
Leading paper firm pledges to halt Indonesian deforestation
A Greenpeace aerial survey reveals one area of deforestation among hundreds of thousands of hectares in Sumatra. Photograph: AFP/Getty
Fiona Harvey
, environment correspondent
http://www.guardian.co.uk/environment/2013/feb/05/paper-firm-indonesian-deforestation?intcmp=122
4 February 2013
India's plan to link 37 rivers would save the country from drought and flood and help feed millions. So why is progress so slow?
A villager walks next to a dried canal near Santalpur village in the western Indian state of Gujarat. Photograph: Ahmad Masood/Reuters
The idea of linking India's rivers to put an end to droughts and floods has exercised a mesmerising grip on the nation's mind for decades. That grip has become even stronger since neighbouring China embarked upon various water diversion projects, and pushed ahead with its own gargantuan engineering projects.
So it came as no surprise when in December 2012 India announced progress on plans to connect 37 rivers across the nation through 31 links with 9,000 km of canals, saying such a project was feasible. This exercise, the government estimates, would cost $140bn.
But even after China went ahead with its plan to construct more than half a dozen dams that India says would affect the flow of water downstream into its own territory, the plan to link Indian rivers by 2016 does not seem to be progressing easily, with both economists and environmentalists now believing the project is unfeasible.
The government's own estimates suggest that inflation and debt-servicing costs during the four-year period of construction would push costs even higher than the already-unaffordable $140bn estimate. The supreme court is also concerned over potential financial shortfalls.
Last February, the supreme court criticised the government and directed the authorities to implement the plan without any delay, calling it "a matter of national benefit and progress".
http://www.guardian.co.uk/environment/2013/feb/05/india-river-link-plan-progress-slow?intcmp=122
2 February 2013
California Irrigation Changing Weather Patterns in American Southwest
Water diverted to central California's farmlands boosts rainfall in nearby states and may even exacerbate periodic flooding in some regions, a new study suggests. The phenomenon may also be happening elsewhere in the world.
California's Central Valley—an area almost twice the size of Massachusetts where farmers raise more than 200 different crops, including apricots, asparagus, cotton, and grapes—is one of the largest irrigated regions in the world. Every year, several cubic kilometers of water are supplied to the Central Valley's fields, about 60% of it from river flow diverted into the region and the rest from wells. A significant amount of that liquid evaporates from fields rather than nourishing crops, says James Famiglietti, a hydrologist at the University of California (UC), Irvine. That boosts humidity in the valley, according to previous research, but scientists haven't evaluated its effects farther afield.
So Famiglietti and university colleague Min-Hui Lo employed a global climate model. In one set of the team's simulations, no irrigation occurred. In another set, the researchers added a volume of water equivalent to 350 millimeters of precipitation falling on each square kilometer of the valley's fields between May and October, the time of year when soil moisture typically takes a dive if irrigation isn't provided.
http://news.sciencemag.org/sciencenow/2013/02/california-irrigation-changing-w.html
1 February 2013
Increases in Extreme Rainfall Linked to Global Warming
A worldwide review of global rainfall data led by the University of Adelaide has found that the intensity of the most extreme rainfall events is increasing across the globe as temperatures rise.
In the most comprehensive review of changes to extreme rainfall ever undertaken, researchers evaluated the association between extreme rainfall and atmospheric temperatures at more than 8000 weather gauging stations around the world.
Lead author Dr Seth Westra said, "The results are that rainfall extremes are increasing on average globally. They show that there is a 7% increase in extreme rainfall intensity for every degree increase in global atmospheric temperature.
"Assuming an increase in global average temperature by 3 to 5 degrees Celsius by the end of the 21st century, this could mean very substantial increases in rainfall intensity as a result of climate change."
Dr Westra, a Senior Lecturer with the University of Adelaide's School of Civil, Environmental and Mining Engineering and member of the Environment Institute, said trends in rainfall extremes were examined over the period from 1900 to 2009 to determine whether they were becoming more intense or occurring more frequently.
http://www.sciencedaily.com/releases/2013/02/130201100036.htm
29 January 2013
World Bank spending on forests fails to curb poverty, auditors claim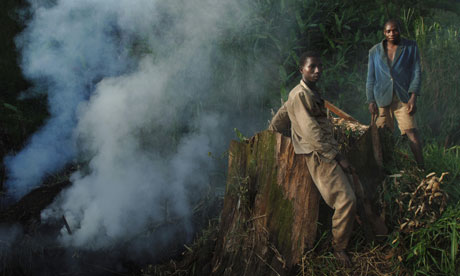 Foresters rest next to a trunk in Katwe, the Democratic Republic of the Congo, 2008. Photograph: Lionel Healing/AFP/Getty Images
The World Bank's $4.1bn (£2.6bn) investments in forestry over the past 10 years have done little to reduce poverty, improve conservation, tackle climate change or benefit local communities in developing countries, a study by its own inspectors has found.
The 202-page report – a copy of which has been seen by the Guardian – was compiled by the Independent Evaluation Group (IEG), which consists of senior bank staff and outside consultants. The document says the bank's financial support helped to protect 24m hectares (59m acres) of forest around the world and to classify 45m ha of forest as being on indigenous people's land. But it says the bank mostly failed to address critical social and environmental issues.
The World Bank funded 345 major forestry projects in 75 countries in the decade to July 2011. The IEG panel, which visited many of the projects and interviewed hundreds of people, criticised the bank strongly for:
• Continuing to support industrial logging.
• Not involving communities in decision-making.
• Assuming that benefits would accrue to the poor rather than the rich and powerful.
• Paying little attention to rural poverty.
The IEG report has been sent to the UK and other major contributors to bank funds, and is due to be discussed on 4 February. It is particularly embarrassing for Britain because the government has donated $600m since 2008 to the bank's forest investment programme, and the departments of energy and climate change, environment, and international development (DfID) have all claimed to be committed to fighting forest loss in developing countries. Last year, DfID said in response to a select committee inquiry into its funding of the World Bank that it "is one of the most effective uses of British aid" (pdf).




23 January 2013
Massive melting of Andes glaciers
China and Australia top list of 'carbon bomb' projects Greenpeace analysis shows 14 planned giant fossil fuel projects will increase global emissions by 20%
22 January
The Shengli opencast coal mine in Xilin Hot, Inner Mongolia. China's five north-western provinces aim to increase coal production by 620m tonnes by 2015. Photograph: Lu Guang/Greenpeace China and Australia top a global list of planned oil, gas and coal projects that will act as "carbon bombs" and push the planet towards catastrophic climate change, a Greenpeace report warned on Tuesday. The Point of No Return study, by consultancy firm Ecofys for Greenpeace, calculated that the 14 giant fossil fuel projects would produce 6.3 gigatonnes of CO2 a year in 2020 – as much as the entire United States emits annually. The largest contributors will be China's five north-western provinces, which aim to increase coal production by 620m tonnes by 2015, generating an additional 1.4bn tonnes of greenhouse gases a year. Australia's burgeoning coal export industry, already the largest in the world, is in second place due to its potential growth to 408m tonnes of shipped resource a year by 2025, resulting in an annual 760m tonnes of CO2. Meanwhile, controversial exploitation of oil and gas reserves in the Arctic could release 520m tonnes of CO2 a year, with further major emissions set to flow from other new fossil fuel frontiers, such as tar sands oil in Canada and shale gas in the US.
January 17, 2013
Study Finds Severe Climate Jeopardizing Amazon Forest
Plants Flower Nearly a Month Earlier Than They Did A Century Ago
16 January 2013
Heatwave suddenly shrinks seaweed's range
10 January 2013



Zambia bans hunting of lions and leopards
Sea level rise could lead to a cooler, stormier world
While it might sound welcome, the temperature differences produced by the "iceberg cooling effect" could lead to even more climate chaos in a world already devastated by extreme weather. Winter storms, for instance, are powered by the temperature differences between the poles and the equator, so there might be storms of unprecedented ferocity.
8 January 2013
Oil sands' toxins 'accumulate in freshwater ecosystems'
Toxic pollutants released by oil sands mining operations are accumulating in freshwater ecosystems, research by Canadian scientists suggests.
A study of sediment in nearby lakes showed the level of pollutants, known as PAHs, had risen since the 1960s when oil sands development began.
However, the researchers added that PAH concentrations were still lower than those found in urban lakes.
06 January 2012
Predicting the next big flood
The question most people have about the threat of stormy weather and more flooding is the one the scientists find hardest to answer: how bad is it going to be?
The fact is that the science of understanding why rain falls, and where and when, and how it then soaks into the ground or spills into the streets, is extremely challenging.
And Britain, as an island nation, tucked between the Atlantic Ocean and the continental mass of Europe, and caught in a tussle between mild maritime air and icy blasts from the Arctic, has the least predictable weather of all.
So, as the Met Office tells us what we guessed already - that 2012 was one of the top five wettest years on record - a huge effort is under way to improve the forecasting.
This could make the difference between floodwaters that are contained and those that ruin homes and wreck lives.
Waterfall-Climbing Fish Use Same Mechanism to Climb Waterfalls and Eat Algae
Nanomaterial inspired by nature paves way for greener energy
Based on structures found in the natural world which occur within mitochondria and chloroplasts, nature's own "fuel cells" and "solar cells", the new nanostructure is formed of a network of tiny wires, millionths of a millimetre in size, and is created by growing the metal in a template made from a plant molecule. This creates a structure known as a "bicontinuous cubic phase".
04 January 2013
The International Service for the Acquisition of Agri-biotech Applications (ISAAA), talks of "overwhelming trust and confidence" in GM crops and says it expects Mali, Togo, Nigeria, Kenya, Uganda, Tanzania and Malawi to start growing GM in the next few years. But ISAAA is an industry-backed body accused of hyping the take-up of the crops. The reality is that progress in introducing GM food crops to Africa has slowed almost to a halt, with no country altogether happy with the prospect of their introduction.
http://www.guardian.co.uk/global-development/poverty-matters/2013/jan/04/uk-government-enthusiasm-gm
Young stars and planets grow up together
Read more at